North Port Outdoor Signs
VIEW GALLERY
Sarasota Sign Company is here to provide you with high-quality, durable, and visually effective North Port outdoor signs for your business. Experience a boost in customer traffic and sales with high-visibility signage displayed around your building.
Our company handles the entire process of designing, creating, and installing signage to our clients' business areas. We produce signs that efficiently target specific goals, such as brand recognition, wayfinding, or product promotion. Whether you're looking to add one minor sign to your business or a full set of window graphics, banners, and storefront signage, we can provide all the resources you will need to get the job done.
Our designers are here to incorporate your company's branding guidelines, including your brand colors, fonts, logos, images, and other visual elements, into the signs we'll create. We are dedicated to ensuring these signs will effectively communicate your brand to the public, maintaining your professional look. If you're looking for highly effective North Port outdoor signs, all you need is Sarasota Sign Company, the leading signage products and services provider in town.
Call Sarasota Sign Company at (941) 740-6410 for your Free Consultation!
Storefront & Building Signs

Sarasota Sign Company's signage experts can create outdoor signs that effectively communicate to your customers that you are the professional company that they need. We offer a wide selection of outdoor sign types, so we can choose which ones best fit your goals and visual brand.
We are ready to hear all about your company goals, branding guidelines, preferences, creative ideas, location, and budget details so we can figure out together the best solutions for your signage needs. Whether you need temporary signs for certain events or permanent signage that go with your building, our signage experts will help you find the best specifications for your signs.
Sarasota Sign Company's signage specialists are here to help you choose the right sign types, materials, design, and other specifications to make sure that they attract potential customers effectively.
Channel Letters & Dimensional Letters
One of the most popular outdoor sign types we offer is channel letters and dimensional letters. Both are three-dimensional, text-based signs that can be heavily customized, making them a choice you can't go wrong with for virtually all types of businesses.
Channel and dimensional letters are individually cut pieces, typically letters and symbols used to spell out business names or show logos and other images. They can be attached directly to your building's front facade or incorporated into a more complex signage set-up.
Sarasota Sign Company can take all your design preferences, from the font style of the texts, size, colors, shapes, and any image, and incorporate them into high-quality, durable channel letters or dimensional letters. This sign type is a must-have for your business wherever you would like to place them.
Lighted Signs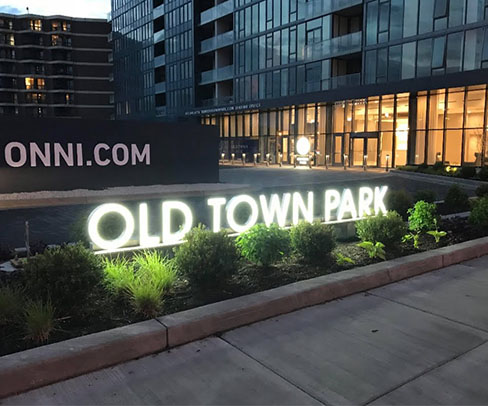 If you want signs that most effectively catch people's attention even during the night, then nothing beats lighted signs.
There are many ways to put electronic lighting to any sign type that you choose. Some sign types such as channel letters and cabinet signs are hollow and can be installed with lights inside them. On the other hand, backlighting can also be applied to dimensional letters. This can be expanded to other lighting techniques, such as traditional lighting and downlighters or up-lighters. Sarasota Sign Company is capable of applying electronic lighting to virtually any sign type as your request.
Moreover, our signage experts only use LED lighting technology, which is more eco-friendly and more cost-effective than traditional electronic light tech. So if you think lighted screate these lighted outdoor signs for you.
Custom Sign Panels
Panel signs are also very customizable and versatile in placement. You can have them attached to your facade, affixed to posts outside your building, or set as a lightbox front.
With sign panels, you can show information such as your business name, tagline, logo, contact information, operating hours, and other important details. You can get them in virtually any color you want. They can come in various sizes, from a simple plaque to a large-scale, full-color storefront sign.
The structure of sign panels also makes them one of the most affordable sign types. Designs can be directly imprinted on the surface of panel signs, or they can come in the form of cut vinyl letters and graphics for a more stylish effect. Sarasota Sign Company is here to let you know which custom panel signs specifics will work best for your goals.
Monument Signs
Monument signs provide a strong, professional feel to a business; that's why they are popular among institutions like schools, hospitals, corporations, and multi-business parks.
This typically large, eye-catching, and impactful sign type is commonly built of solid stone or wood, while some are more light-weight and made of foam. Nonetheless, monument signs are arguably the most durable of all sign types because of their structure.
All types of information can be etched, sandblasted, attached, or imprinted on monument signs, such as your business name, taglines, contact information, logos, and other details and images. You can even have a digital display attached to your monument, enabling you to edit information on the go. Sarasota Sign Company is here to help you find the best ways to make your monument signs work for your institution.
Pole Signs & Pylon Signs
Through maximizing vertical space, pole signs, tenant signs, and pylon signs provide game-changing visibility to your business.
The towering height of these sign types allow them to offer promotional and brand establishment functions at a special level and at a long distance. These signs are popular among businesses located along busy roads, interstates, and highways, including convenience stores, gas stations, restaurants, and the like.
The multi-business style of tenant signs allows them to serve multiple businesses simultaneously, although they can also be used to showcase just one company. Sarasota Sign Company can make high-quality pole signs, pylon signs, and tenant signs that can satisfy your signage needs.
Complete Exterior Signage Provider
Sarasota Sign Company can design, produce, and install all types of signage products to your business location. Whether you only want temporary, event-based signs that showcase product sales or official occasions or more permanent signs to install on your building, we've got you covered. Our flags, banners, monument signs, pole signs, and tenant signs will be great for your large-scale signage needs. You can also use our simpler vinyl graphics and sign panels for your small-scale projects.
All types of businesses are welcome to work with us. Our high-quality North Port outdoor signs will work for your business whether you are just starting up, rebranding, or expanding your company. We know we have what it takes to get you the best signage products in the area.
Here are some of our outdoor signs:
Sarasota Sign Company provides the complete set of services needed to design, create, and install high-quality signs for your business. From brand-establishing indoor signs to eye-catching outdoor signs, we've got the most extensive product and service packages you will ever need from a signage company.
Full-Service Exterior Sign Company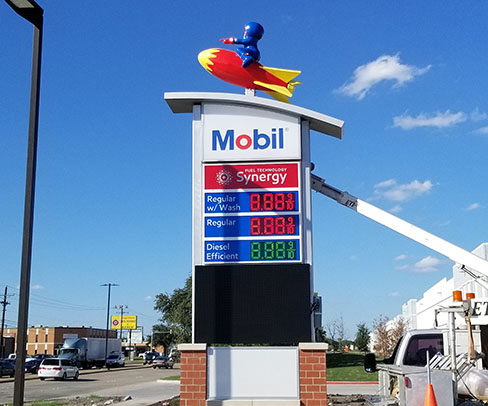 Sarasota Sign Company is a full-service North Port, FL signage company. This means that we are highly trained and fully capable of providing all the necessary services involved in signage product design, manufacturing, installation, and more.
Our state-of-the-art in-house manufacturing facility allows us to have full control over the quality of all the signage products that we create. We are a large professional team of designers, engineers, project managers, and expert installers who are highly skilled and dedicated to producing the highest quality signage products for our clients.
But we don't just offer technical services. We are also here to provide consultation services for our clients so they can rest assured that your decisions are backed with our expert recommendations. From consultation to the final installation, Sarasota Sign Company is by your side while you get game-changing North Port outdoor signs for your business.

Free Outdoor Sign Consultation
As the leading provider of North Port outdoor signs, Sarasota Sign Company is here to provide everything you will need from the signage industry.
Your business goals, needs, preferences, and ideas will be satisfied with the most durable, attractive, and high-quality outdoor signs coupled with top-notch design, manufacturing, and installation services. Our signage experts look forward to hearing all about your business needs so we can start working on your dream outdoor signs.
Call Sarasota Sign Company at (941) 740-6410 for your Free Consultation!