Sarasota Digital Signs
View Sign Gallery
Digital signs are one of the most powerful tools you can use to communicate your brand's message. Situations of rapidly changing industries, seasonal product lines, and fast-paced workplaces can all be solved with Axe Signs & Wayfinding's top-of-the-line Sarasota digital signs.
Boost the way you talk to your customers with these high-tech signage products. Tell them all about your operational hours, latest best-sellers, or upcoming events with a little flare.
Axe Signs & Wayfinding can provide all the services and products you need to get these dynamic signs into your building. From designing and manufacturing to installation and repairs, we got your back. All we need from you is to tell us what you want. We'll make sure to leave you fully satisfied with the product we will make without overspending your budget. Let your unique brand be heard with these digital visualization tools.
Call Axe Signs & Wayfinding today at (941) 740-6410 for your Free Consultation with a Sarasota Digital Sign expert!
Dynamic, Attractive Digital Signs
You may be thinking that maybe high-tech digital signs are not the best investment you can get for your business. But dynamic digital signs are known to apply to almost any type of industry. If you want to simply showcase your products, events, and services effectively, then you will benefit from our Sarasota digital signs.
Restaurants have digital menu boards that can vividly relay their products, boost their point-of-purchase marketing, and improve customer satisfaction. Gas stations are able to regularly update the displayed prices of their fuel products as the need arises. Seasonal products can be easily highlighted with highly modifiable digital signs. Even pharmacies, warehouses, offices, and hospitals can make productive and game-changing use of our highly customizable digital signs.
With our state-of-the-art tools and resources, we can create digital signs tailored to a specific client's needs. We have a long list of specification options. You can choose the design, size, materials, technology, and colors that you think will work best for your branding and business growth.
Outdoor Digital Displays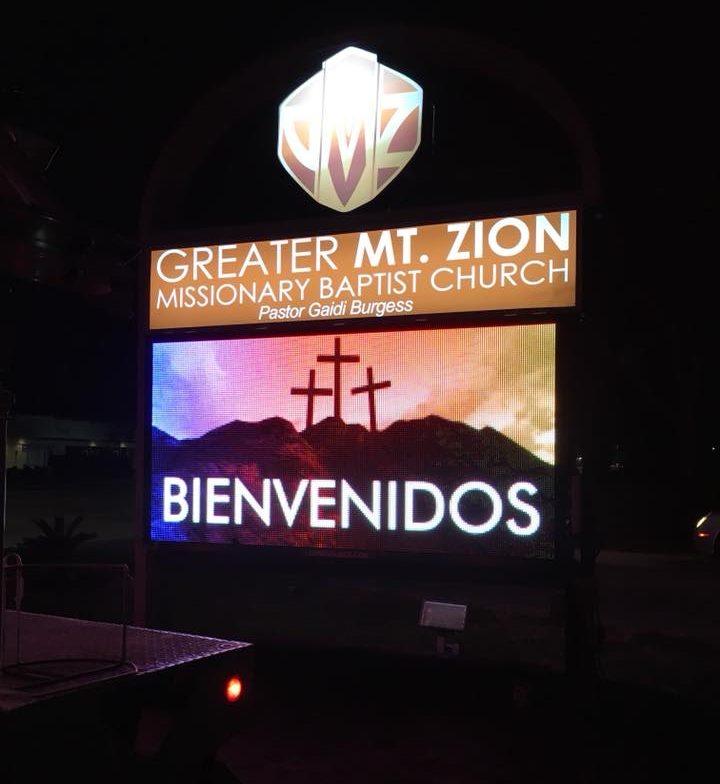 Axe Signs & Wayfinding is your one-stop-shop for effective outdoor Sarasota digital signs that can attract your customers and inform them about your business. Even if they're built with electronics involved, rest assured that our digital signage products are durable enough to withstand weather all day and all night.
We can provide you with LED, LCD, and projection signs that can powerfully showcase your business name, logo, contact details, and other important information about your business. Just tell us all about your business and your needs. If you run a convenience store or a gas station in the interstate or if you own a retail store or a restaurant, we will strategize and create the perfect digital signage for you.
Indoor Digital Displays
With their versatility in design, digital signs are just as effective indoors as they are outdoors. Axe Signs & Wayfinding can provide professional recommendations on how to use them effectively inside your building.
One of the best ways to use our indoor Sarasota, FL digital signs is by creating a dynamic, interactive environment inside your business space. This works best for museums, retail stores, restaurants, hotels, stadiums, and corporate facilities. You can place continuously streaming videos and other media using these digital signs.
Axe Signs & Wayfinding provides signage of all types and prices to match your business needs. Whether you want a professional vibe in your area or a bright and lively atmosphere, we can strategize the design and installation of our signs to achieve such goals. You can use them for all the purposes you can think of, from information dissemination, wayfinding, and advertising to aesthetic and entertainment purposes.
You don't have to shop for sign types in one store and pay for installation and logistics services from another. Axe Signs & Wayfinding is capable of providing all the services you need, saving you time, money, energy, and other resources along the way. Let us know your goals and budget, and you'll get the signage product that you need exactly how you want it.
Full-Service Sign Company
Axe Signs & Wayfinding is a top signage company that provides full-service signage programs. We are capable of handling signage design, manufacturing, installation, repair, and maintenance.
We begin our business with a free and thorough consultation session. We use this time to listen to all your concerns and needs from the signage industry. Once we've gathered all the information we need from you, we will begin creating a mock-up of the products you aim to have. We are here to make sure that the final results match your company goals, vision, brand, and preferences perfectly. So any requests for changes and large-scale modifications are always welcome.
After finalizing the blueprint, our expert manufacturing team will begin the production phase. We work with professional speed and efficiency, ensuring that we finish by the deadline without compromising anything about the quality. Every tool, material, and resource will be handled to ensure the perfect production of your signage products. Even the legal requirements, if any, can be handled by our signage experts. Our main goal is not just to provide our products perfectly but also to create them with true diligence and integrity. We will not install these products in your building unless they achieve our clients' full satisfaction.
All parts of the installation process can be handled by our signage experts, including electrical systems and safety measures, especially for large-scale signage. We are here to equip you with the knowledge in using this signage effectively, especially with high-tech products like digital message boards. We provide the full-package program in signage designing, production, and installation, so you won't have to look for any other signage company to handle your needs.
Free Digital Sign Consultation
If you need to outshine your competition and local community with visual tools, then we hear you and we got you. Axe Signs & Wayfinding provides industry-quality signage products strategically created and installed to boost a company's visibility. We are here to provide not just top-notch signage products but also superior customer service.
For first-rate Sarasota digital signs and other types of signage products, all you need to do is call Axe Signs & Wayfinding. We will hear all about your signage needs and make sure the products we create are nothing short of perfect for your personal and company goals.
Call Axe Signs & Wayfinding today at (941) 740-6410 for your Free Consultation with a Sarasota Digital Sign expert!