Sarasota Coronavirus Signage
Regardless of your type of brand, the correct combination of signage will dramatically influence your brand recognition, business profitability, and client satisfaction, especially as we face Covid-19. From assisting customers and guests with intuitive wayfinding to encouraging personnel safety, your branded signs keep operations running smoothly.
Discovering the most appropriate, informative coronavirus signage is difficult. There are several signage components that need to be considered, such as your customer and staff support goals and objectives, how your customers utilize and navigate your facilities, relevant local signage regulations, and even the expected wear and tear your signs may experience all impact the type of signs and graphics you pick for your business.
Your local Sarasota coronavirus signage experts, Sarasota Sign Company understands how appropriate signs and graphics can be used to support the flow of traffic throughout your business, protect and motivate your team, and encourage brand loyalty. By building high-quality, affordable sign and graphic components that are designed specifically for your brand, specifications, and facilities, our professionals raise your organization to new heights.
Call Sarasota Sign Company today at (941) 740-6410 for a Free Consultation!
Wayfinding & Safety Hospital Signs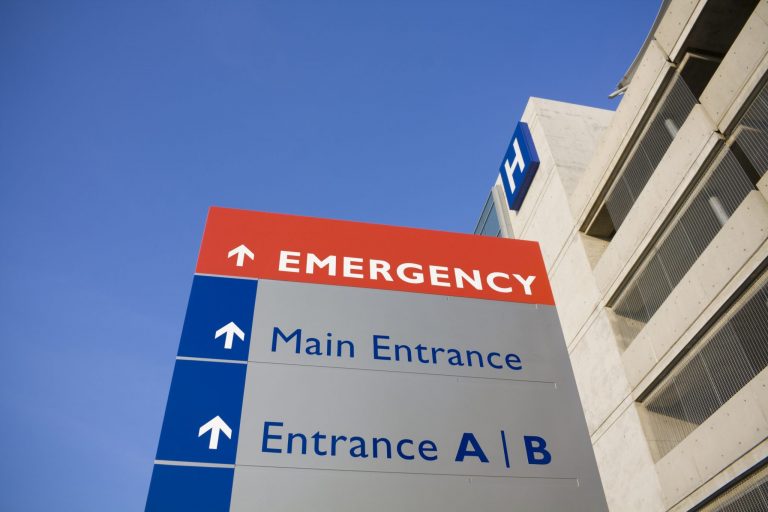 When hospitals and clinics are faced with a medical emergency situation including the coronavirus, specifically Covid-19, it is vitally important that both incoming patients and doctors, nurses, visitors, and other healthcare providers can properly navigate and interact with your hospital. Eye-catching wayfinding assistance, necessary details, and warnings should really be displayed prior to a patient ever stepping in the medical center. This is why hospital signage and wayfinders are so essential. Helpful signage supports faster and more streamlined patient service, function as a reminder to conform to healthier hygiene practices, and minimize the danger of further spreading the infection by cutting down on physical interactions.
Unmistakably mark appropriate parking areas and provide new traffic by providing important guidance through the implementation of useful hospital signs and wayfinders by Sarasota Sign Company. To maximize your sign visibility, especially in low light, we offer eye-catching reflective signs. Supportive interior hospital signs can be as straight forward as increased hand washing signs, important reminders of increased safety procedures, and additional wayfinding sign and graphic elements to reduce interpersonal interactions.
Whether providing easy parking and patient drop-off information or to help keep your patients that are visiting you for issues instead of coronavirus continue to be free from infection, signage can help you with reducing risks for you, your reliable team of medical care specialists, and your patients.
Assisted Living & Nursing Home Signage
When facing a national health emergency, including Covid-19, it's crucial that new residents and hospital staff understand how to best navigate your facilities. Functional directions, instructions, and warnings will need to be evident before the patient ever steps inside the nursing home.
This explains why nursing home signage and wayfinders are so essential. Impactful signage assists with streamlined facility navigation, work as an important reminder to conform to healthier hygiene procedures and minimize the risk of further spreading infection by cutting back on in-person interactions.
Supportive indoor nursing home signage can be as quick as more hand washing signs, information regarding new safety and security practices and procedures, and increased directional assistance signage in order to cut person to person support. Intuitive signage elements can help you with reducing risks to you, your dedicated team of care providers, and the patients that depend on you for treatment.
Business Update Signage
Is it necessary for you to make important updates to your hours of operation or business processes as a solution for minimizing the spread of the coronavirus? Targeted, supportive signs and graphics help your customers and prospects understand the best way to do business with you during these limitations and restrictions we are all experiencing.
When you decide to route your clients and customers to your drive-thru or pick-up spot, provide changes to your business hours of operation details, or communicate alternative contact or phone numbers your patrons can use to contact you when your business is not accessible for walk-in customers or guests, Sarasota Sign Company manufactures attractive business signs and graphics to support you during these challenging times.
Our experts produce limited exposure new signage products. This allows our experts to produce and deliver your needed new signage elements, including installation on-site, without any physical or in-person contact with you or your team. As things can change fairly quickly as a response to Covid-19, we are supplying extremely fast delivery on basic assistive signage elements. Once established with us as a customer, our team will be ready to quickly and easily produce new signage with nothing but an email or a simple phone call to submit your revisions.
Every Sign Your Business Needs!
Sarasota Sign Company is your trusted Sarasota coronavirus signs and graphics provider, delivering professional, branded commercial signage products. If you are looking for updated sign and graphic elements to communicate to clients and customers about your business adjustments during Covid-19 or are using this slower period renovate your facility signage without impacting business operations, Sarasota Sign Company manufactures the supportive sign and graphic solutions your organization desires.
From ADA signs to department signs, our specialists see the distinctive needs of different niches and different businesses. We take into account your branding, facilities and space, and business goals to construct the proper signs and graphics.
If you desire a solitary wall graphic or a total assortment of indoor commercial sign elements, Sarasota Sign Company will coordinate the complete project for your business.
Our commercial sign services include:
Free Expert Signage Consultation
Sarasota Sign Company is fully committed to supporting you as we all go through this complex phase. Our dedicated, accomplished Sarasota, AZ coronavirus signage staff is eager to design and fabricate the branded, high-quality commercial signs you need to effectively improve product and service promotion, brand identification, navigation, or customer support.
Call Sarasota Sign Company today at (941) 740-6410 for your Free Consultation with a Signage Expert!