Sarasota Monument Signs
View Monument Sign Gallery
Establishments like churches, corporate parks, schools, universities, organizations, and government facilities are commonly represented with the durable and impressive monument sign. Axe Signs & Wayfinding can provide you with industry-quality Sarasota, FL monument signs that can fit your goals.
Typically made of sturdy materials like metal, marble, stone, or concrete, monument signs are perhaps the most durable and long-lasting of all sign types. They can showcase an establishment's name, logo, contact details, and other relevant information. They project a strong, long-lasting impression to the surrounding community, making them one of the best options if you want your business or institution to stand out. Call us today so we can talk about the best way to design, produce, and install your monument sign.
Call Axe Signs & Wayfinding today at (941) 740-6410 for your Free Consultation with a Sarasota Monument Sign expert!

An Impressive Entrance
Monument signs are sturdy and long-lasting. They are often made for establishments that let out a strong, charismatic atmosphere, like multi-tenant corporate areas, universities, and museums. They are made to leave a lasting impression not just on clients and visitors but also on the surrounding community.
Unlike other sign types, monument signs stand at eye level because they don't require any structure to support them, like poles, posts, or pillars. Because monument signs are built of solid, durable material, they are made to be immune to weathering, aging, degrading, and other common signs of damage. This sign type is indeed one of the best investments you can make for your business.
Multi-Tenant Monument Signs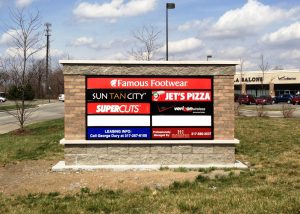 One of the main benefits of Axe Signs & Wayfinding's Sarasota monument signs is that they are typically built to be large enough to house more than a single establishment. They can be used to function as one large directory for multiple tenant areas, like shopping centers, multi-building facilities, and corporate parks. Multiple establishment names and logos can be placed in one effective sign.
Axe Signs & Wayfinding's Sarasota monument signs are perfect for your business if you want a visual tool that can truly make an attention-grabbing impact on your area.
Custom Signs for Every Budget
As a top producer of Sarasota, FL monument signs, Axe Signs & Wayfinding has a long list of monument sign specifications at our disposal. Tell us what your needs are, whether you want to have a multi-tenant pillar or a strong digital communication system, and we'll be able to handle every service needed to create such products.
From simple signs to full-package projects, our signage experts are capable of turning your ideas into reality.
Free Monument Sign Consultation
Let Axe Signs & Wayfinding be your full provider of every product and service you need from the signage industry.
We are fully capable of designing, manufacturing, and installing industry-grade Sarasota monument signs that are built exactly for your specific needs.
Call Axe Signs & Wayfinding today at (941) 740-6410 for your Free Consultation with a Sarasota Monument Sign expert!